Santa Catalina is located on the Chiriquí Gulf in the state of Veraguas, Panama. It is a fishing village which existed in quiet seclusion until discovered by adventurous surfers in the 1970s. Protecting their hidden world class surf, Santa Catalina was kept secret by the surfers for quite some time.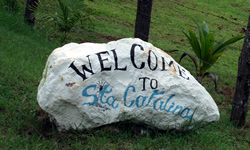 Today, Santa Catalina offers a smattering of surf camps, low cost hotels and a few eating establishments. Still fairly secluded, the closest town with ATM, grocery, other basic services is Soná which is about an hour away.
Literally a tropical paradise, Santa Catalina offers some of the best surf in Panama, the closest access point to Isla Coiba with its world class diving, great local dives and fishing and quiet charm for relaxing. It's beautiful beaches, lush forest and friendly people make it a great stop for travelers wanting to enjoy some of the best of Panama's natural beauty and local flair on a minimal budget.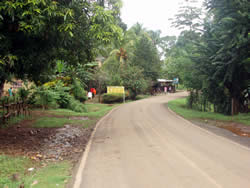 The main street in Santa Catalina is the end of the road from Soná. The pavement ends at the Santa Catalina beach where local fishing boats anchor just past the break waiting their next fishing expeditions and surf and scuba visitors mix with locals for pick up soccer games. To learn more about activities in and around Santa Catalina, please click here.