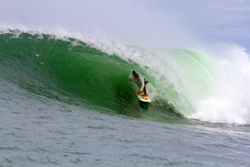 You can't stop the waves but you can learn how to surf. Panama offers just that, specifically Santa Catalina. Rising to fame, Santa Catalina has hosted two ISA surf competitions, drawing competitors from all over the world. Latin American competitions frequently take place in Santa Catalina, giving surfers the chance to catch a wave on Santa Catalina's infamous point break - La Punta (The Point).
Accommodations
Whether you are headed to check out the waves for a competition or to cure your hunger for three to five meter barrel waves, or you are determined to learn how to surf in a renowned surf spot, Santa Catalina has the perfect accommodation.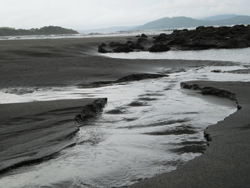 Rancho Estero (www.ranchoestero.com) offers idyllic tiki huts resting on the edge of Estero beach, creating the perfect getaway for surfers to catch a wave. If you are a beginner surfer, you are in luck. Rancho Estero lies on Santa Catalina's best beach for beginners. Rancho Estero is equipped with surfboards for rent, ranging from short boards, fun boards, to foam beginner boards. For prices and availability contact Rancho Estero at www.ranchoestero.com/surf-camp.php
If you are a surfer in need of a hotel with access to the point, Surfside Inn (www.surfsidepanama.com) has just that. Overlooking the scenic view of the point, Surfside Inn has dorms and private rooms suiting your needs. Surfside Inn does not have surf board rentals, so make sure to bring your own or rent a board from Surf and Shake.
Surf Shops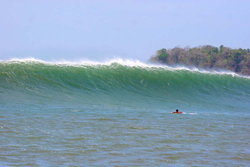 If you are looking to buy, sell or rent a surfboard, Santa Catalina Surf Shop (www.santacatalinasurfshop.com) provides a wide selection of boards, both new and used. The surf shop offers unique Santa Catalina shirts as a souvenir to show you surfed the infamous waves of Panama.
Now that you have a surfboard in your hands, be sure to visit Surf and Shake (www.surfandshake.com) for some wax, sunscreen, or fins. Try their delicious fresh fruit shakes before heading out to catch the renowned waves of Santa Catalina. Surf and Shake also offers surf lessons for beginner taught by surfing export, Zigor. For 25 dollars, you can take a one and a half hour lesson and a surfboard rental.
2014 Season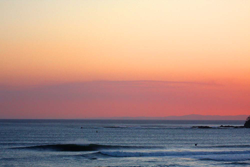 The start of 2014 has been comparable to the waves in the past few years. The waves of Santa Catalina are typically smaller during the months of January through April. The waves begin to get bigger as rainy season begins.

Conclusion
Santa Catalina provides a nice getaway for surfers looking to catch big and small waves for beginners and experts. If you are looking to surf the infamous waves of Santa Catalina, make sure to book your hotel reservations in advance. Chances are you aren't the only one escaping reality to surf the wave of a lifetime.