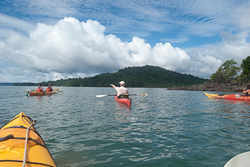 Coiba National Park (Nacional Parque Coiba) is group of 38 islands including Coiba Island (Isla Coiba) and the waters surrounding them. Coiba National Park is located in the Gulf of Chiriquí off of Panama's Pacific coast covers 430,825 acres.
Because of its rich and well preserved natural resources Coiba National Park and its Special Zone of Marine Protection was declared a World Heritage Site by UNESCO in 2005. Cited for its high levels of endemic mammal, plants and birds and ongoing evolution of new species, Coiba National Park is consider by UNESCO to be an "outstanding natural laboratory for scientific research" and a key to the survival of numerous pelagic fish and marine mammals.
Access to Coiba National Park
Management of Coiba National Park is administered by the National Authority for the Environment (Autoridad Nacional del Ambiente, ANAM). The park is accessible only by permit from ANAM. A number of tour operators in Panama offer ecotours, fishing, and scuba diving trips to Coiba (see details) and can assist in obtaining appropriate permits. The tour operators depart from several different places on the Panamanian coast. Santa Catalina is the closest access point with about an hour and fifteen minute boat ride from Santa Catalina's beach to Isla Coiba.
Overnight on Isla Coiba
The only overnight facility available in the Coiba National Park is at the ANAM ranger station on Isla Coiba. The station offers 6 modest 2 room cabins with air conditioning. To Contact ANAM call (507) 998-0615, fax (507) 998-4387, or the National Park office (507) 998-4271
The Islands of Coiba National Park
Coiba National Park covers 60% of the continental shelf and 90% of the islands within the Gulf of Chiriqí. The 38 islands that are included in Coiba National Park exemplify tropical paradise. White sand beaches, hardwood tropical forests and wildlife found nowhere else in the world make these islands breath taking. Islands: Coiba, Jicaron, Brincaco, Uva, Rancheria, Canal de Afuera, Jicanta, Pajeros, Afuera, Montuosa and 28 smaller islets.