Surfing in Santa Catalina, Panama is world class. Kept secret for years by Panama's surfing elite, word has gotten out about Santa Catalina's consistent and powerful break. Santa Catalina offers the most consistent, easy to line up, big wave in Central America if not all of the Americas. Even still, because of it's remote location and the number of options, surfing is relatively uncrowded much of the time.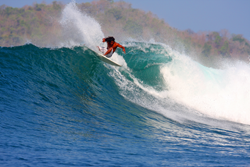 A number of surf camps have sprung up, offering a range of overnight options. Surfers can stay in air conditioned rooms with private baths around $30 to $40 per night or camp near the break at $5 per night with a variety of options in between. Some of the camps offer a meal package for an extra $10 to $15 dollars a day for 3 meals.
Most of the surf is for experienced surfers with the exception of Estero, where beginners can practice on smaller, yet consistent waves and a sand beach.. Lessons and board rental are available from a local surf camp.
For experienced surfers, Santa Catalina, Panama offers powerful hollows that break both left and right. The bottom is rocky and the volcanic rock can be tough on feet, heads and boards! The waves roll in year round and typically range 4 to 15 feet, with the largest between February and August when faces can push 20 to 25 feet.
The water is warm year round. Wetsuits are not needed. Bring plenty of sunscreen, warm water wax and a pair of reef shoes to protect against the volcanic rocks.
Santa Catalina Surf Spots - In or Near Santa Catalina
The area around Santa Catalina offers some of the greatest variety and consistency of surf conditions in the world and is the prime surf destination of Panama and Central America. Here are a few of the options:
Santa Catalina - The reason surfers started coming to the area! Left and right breaks, tall and powerful waves. Best at high and medium tide. Low tide should be left for very experienced surfers with a lot of local knowledge. Very consistent break 80% of the time with the other 20% being knee to head high.
Punta Brava - about a half hour walk to the southeast. Is actually 3 breaks, 2 lefts and 1 right. The main break is to the left over a rock bottom. Tends to be bigger and more consistent than the main break at Santa Catalina. Sometimes, the waves are much larger than Santa Catalina's.
Punta Roca - about a 45 minute walk to the northeast or 10 minutes by boat, the break is a hollow left over a rock bottom with waves similar in size to Santa Catalina.
San Pedrillo - Beautiful beach break with powerful lefts and rights, 20 minutes boat ride from Santa Catalina.
Cimarron - located off a tiny island, Cimarron offers a left break in a beautiful and isolated area. From an anchored boat just of the island, the break is a short paddle of no more than a hundred feet.
El Estero - located next to town, offers a nice sand beach and smaller waves breaking both left and right.
Other Surf Breaks off Isla Cebaco and Isla Coiba remain local secrets and are best visited by hiring a local operator such as the boats at Punta Brava Lodge. The boat ride to these pristine sites could be between 45 minutes to 4 hours depending on the site and the speed of the boat. For instance, the south shore of Isla Coiba in a boat with a large outboard engine could takes an hour and a half or up to 3 hours in some of the smaller local pangas.
La Puntica - the little point
Islands around Santa Catalina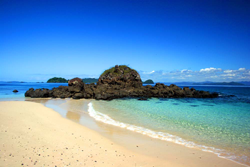 The islands around Santa Catalina offer incredible opportunities for exploration, and virgin surf sites with awesome breaks. Local boats called pangas can be hired to explore these islands or arrangements can be made through the surf camps.
Cebaco - a boat ride to Isla Cebaco can offer larger waves with fewer riders. It offers beach and point breaks and left and right breaking waves.
Montuosa
Jicaron
Cativo
Octavia
Pelonas
Isla Coiba and Coiba National Park - a great side trip for its incredible variety of plants, animals and birds. The scuba diving here is world class with large pelagics, massive schools of fish, and untouched beauty.