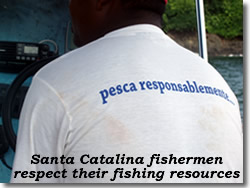 Fishing in Panama is unrivaled both in abundance and quality of catch. Within minutes of the Santa Catalina beaches, fishermen can be surrounded by a war zone of dive bombing seabirds attacking wounded baitfish that huge schools of tuna have driven to the surface. The variety ranges from bottom fishing for snapper, grouper and other reef dwellers, to trolling for world record marlin, sailfish and other deep water species. In addition to the local dwellers, Santa Catalina Panama's location and warm waters make it a seasonal home for fish from both hemispheres escaping their respective winters, providing year round action.
Typical fishing trips out of Santa Catalina involve hiring a local "panga", and taking a ride out to "Puente de Parga." Parga is the Spanish name for snapper and they are here in large numbers. If you are willing to fish the local method and jump on with a panga that is already going out, this type of trip can be extremely affordable; sometimes costing nothing more than contributing to the cost of the gas. The local method of fishing is essentially hand to fish combat. The line is reeled off the plastic spool on which it came from the manufacturer and is hand rolled on as you fish!
If you prefer a more advance fashion of fishing, boats are available in Santa Catalina Panama for private charter using the appropriate equipment and lures. The boat of choice will still most like be a 25 ft panga with a 70 hp outboard. Half and full day trips can range from $150 to several hundred dollars. The cost of and difficulty in acquiring fuel is the largest factor in determining cost.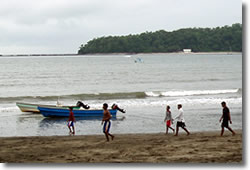 The panga is a deep vee'd bowed fiberglass boat with a wide flat beam across the back preferred locally because of the large tide changes. With daily tide changes of 15 to 20 feet, the boats are moored just past the beach break and are brought to the edge of the sandy beach to be loaded and unloaded. Establishment of docks and protected harbors is inhibited by the large Pacific Ocean tide changes. This makes the panga the boat of choice for fishing villages up and down the Central American coast.For a complete Panama fishing adventure, Ricardo (Richard before slipping out of Florida!) at Santa Catalina Boat Tours can arrange for multi day trips to Isla Coiba National Park and other excellent fishing banks int the Santa Catalina area. Using his personal Panga and a Panamanian captain, Ricardo offers one of the only organized fishing packages out of Santa Catalina.